Jean Rooney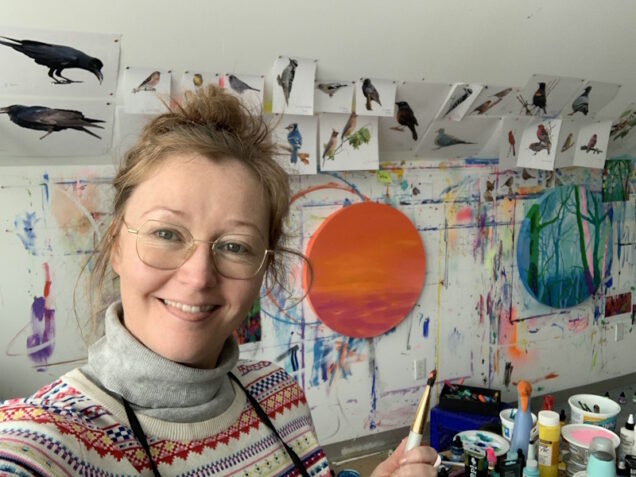 Artist Jean Rooney hopes public art will build meaningful connection with nature for students
Dawn Chorus amongst public artworks commissioned at Hanwell Park Academy
Hanwell Park Academy which opened its doors to K-8 learners and educators in September 2022 in Hanwell, New Brunswick also welcomed new public art installations as part of its construction. One of these public artworks is by New Brunswick visual artist, Jean Rooney entitled Dawn Chorus.
Jean Rooney is an Irish-born artist who lives in the watershed of Welamukotuk on Wolastoqiyik territory in rural New Brunswick. Her practice orbits around studio production, art education, and peer collaboration. She has been exhibiting regularly and lecturing in visual art practice for over twenty years. She is currently Head of Advanced Studio Practice, graduate program at the New Brunswick College of Craft and Design.
We recently had a chance to chat with Jean about her work at Hanwell Park Academy.
Tell us about Dawn Chorus.
"Dawn Chorus" is an artwork designed to teach students about local songbirds in the Hanwell area and consists of 6 acrylic hand-painted birch wood panels. Each panel shows a facet of the Hanwell landscape, using intense, playful colours to depict trees and wildlife, such as foxes and coyotes. Hidden within the painted landscape are a total of 32 local species of songbirds. The final artwork allows students to go birdwatching inside the learning space. They can investigate the works up close or use binoculars from a distance to locate and identify all 32 birds in the paintings over the 27 feet of wall space. This birdwatching, art-watching activity builds curiosity and familiarity for the children to identify the local bird species' shapes, colours, markings, and silhouettes.
What inspired you to create this particular public artwork?
During COVID I slowed down enough that I became more aware of birdsongs. Songbirds herald the dawn. Dawn is significant to humans and non-humans as a time of collective and relational acts of belonging, like waking up in the mornings and preparing to go to school. When I considered how my artwork might add to school life, I wanted it to speak to belonging and to being part of nature and being in nature. I like the idea of schooling and education existing beyond the walls of a classroom and enhancing all of education.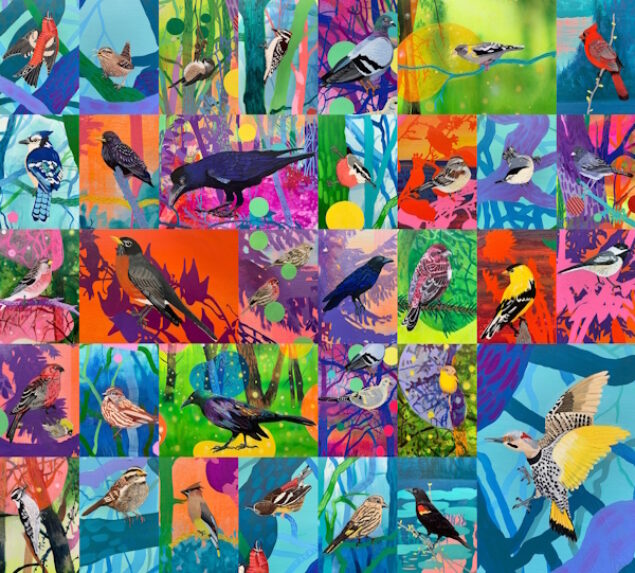 How long did it take for you to create the artwork?
First, I engaged in a month of research and drawing birds before I even started painting. While I knew the backgrounds would be exaggerated and colourful, I wanted the songbirds represented in a clear, realistic style to ensure ease of identification. That meant I had to study what the birds looked like. The bulk of the work was 4 and a half months of painting the panels that range in size from 2 feet to 5 feet in diameter.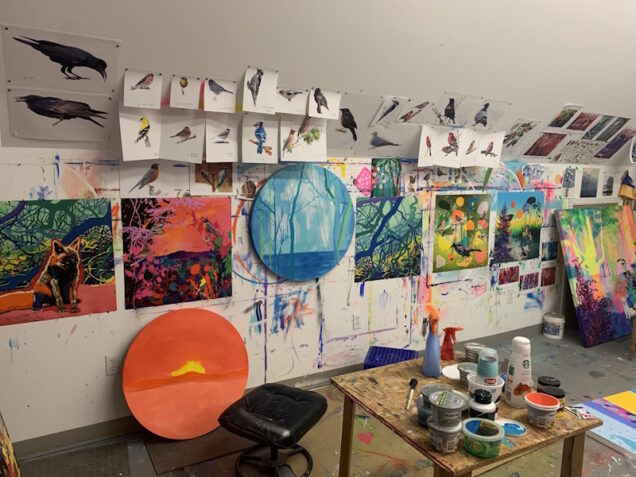 Can you describe your process/journey with this art piece? Did you learn anything new through this experience?
I learned songbirds are much more than just a bird who can carry a tune, they are all perching birds and there are over 4,000 species. I decided to narrow my focus of songbirds using two parameters. I would include species that were present all year round and were the most sighted in NB backyards. Ornithology and birdwatching publications on New Brunswick birds informed this focus. The narrow parameters might increase the chance that children would observe those same birds in their local environment.
The process of situating the work was important. I observed the use of the space by the children prior to any design. I chose the designated space to place my artworks because it was used as a "chill-out zone" and a "think tank" by students. I wanted the artwork to foster mindfulness and inspire contemplation. The artwork's therapeutic benefits might extend beyond aesthetics, contributing to the well-being, happiness, concentration, and relaxation of students. By combatting Nature-deficit disorder and nurturing ecological awareness through art, it was my hope to bridge the gap between our physical classroom and our disconnect from nature and the surrounding outdoor environment.
Is there a panel that speaks to you most and why?
I am drawn to the green panel called "Do the Grackle Walk". I enjoyed the intensity of the green colour, it is an energizing green like the hue we see in Spring and early Summer on leaves. Grackles are such pretty birds with their iridescent sheen and their walk is quite comical.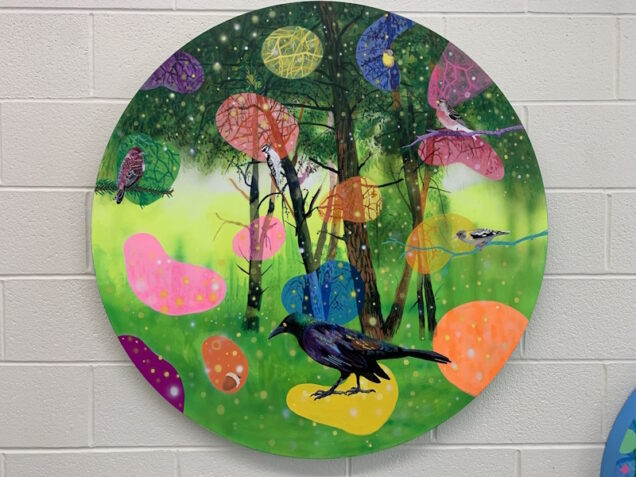 Do you have a favourite songbird?
During COVID I became fascinated with starling murmuration. They are masters of social distancing and group synergy. They can maneuver through directional shifts at speed and never run into each other. I love that they are great at mimicry. They can imitate environmental sounds and integrate learned noises into their birdsong, like the sounds of fairgrounds and motorbikes.
What do you hope to achieve with this artwork or what do you hope the artwork will provide for the school community?
Creating an artwork inspired by birds and the outdoors was a conscious decision, as research tells us modern people spend 80–90% of their routine time indoors and in technology-mediated environments leading to adverse health implications (Saini & Dutta, 2020). Bringing artistic imagery of nature and placing it in the school has therapeutic benefits: It contributes to well-being, happiness, overall health, concentration, and relaxation, as well as informing our place within nature (Lindenwood International School, 2022). In other words, it combats Nature-deficit disorder, a recognized condition in children (Fletcher, 2017; Louv, 2005). Researchers warn that our most significant environmental threat is our increasing disconnection from Nature (Kareiva, 2008). Building connections with nature through artworks allows students to change their behaviour and develop ecological awareness through the arts (Vasko, 2014, 2016). I hope this artwork will spark curiosity in the students to seek meaning in communion with Nature.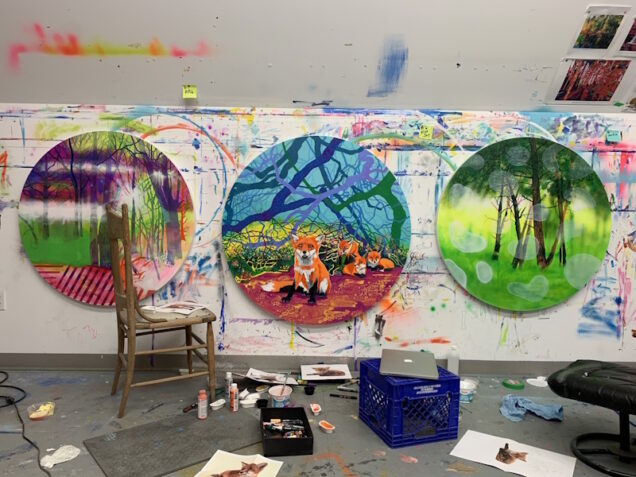 What advice would you give to artists interested in creating public artworks?
Don't worry about performing a version of art that you think other people will like. Follow and develop what is most authentic and meaningful for you. Don't be intimidated. Trust that as an artist you have a well-developed sense of observation and an ability to express the imagination in visual language, in different contexts.
In your opinion, why is public art in schools important?
Public art in schools help to educate and inspire our children as well as enhance our environment. The observation, engagement, discussion, and dialogue that occur in and through public artworks further educate our children and community about art appreciation, and the broader contexts of the social, cultural, historical and environmental contexts that artwork emerges from.
Yes, it is a celebration of human expression, and what it means to be human but goes way beyond this. Artworks or artmaking contending with representations of nature help combat nature-deficit.
Public artworks in schools addresses equity, diversity, and inclusivity, by giving access to original cultural works to all children in the school community across race, class, and educational background. Most importantly it educates them for a sustainable future.
In New Brunswick, our provincial gross domestic product (GDP) for culture—which includes art— "generates a higher GDP than agriculture, pulp and paper manufacturing, informa­tion technologies (IT), seafood manufac­turing, or mining" (Artslink NB & Jupia Consultants Inc., 2019, p. 6).
Artworks in schools helps to orient our children to a creative, expressive, and employable future.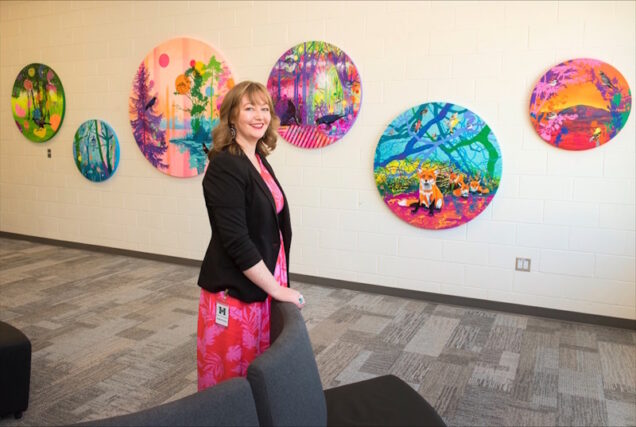 Connect with Jean Rooney and learn more about her artworks:
As part of the Public Art Policy for New Brunswick that was released in April 2018, the Department of Tourism, Heritage and Culture commissions professional artists to design, create and install public artworks for provincially owned and provincially invested construction or development projects. Upon installation, the artwork becomes part of collectionArtNB (formerly the New Brunswick Art Bank).
Learn more about the Public Art Program and explore past projects.
View Dawn Chorus online at CollectionArtNB.
***
References:
Artslink NB, & Jupia Consultants Inc. (2019). Cultivating our cultural workers : realities of New Brunswick's arts and culture workforce.
Fletcher, R. (2017). Connection with nature is an oxymoron: A political ecology of "nature-deficit disorder." Journal of Environmental Education, 48(4), 226–233.
Kareiva, P. (2008). Ominous Trends in Nature Recreation. PNAS, 105, 2757–2758.
Lindenwood International School. (2022). Our values - International school in the west of Paris — Lindenwood International school - école internationale. Website.
Louv, R. (2005). Last Child in the Woods: Saving Our Children From Nature-Deficit Disorder. Algonquin Books.
Saini, J., & Dutta, M. (2020). Applications of IoT in Indoor Air Quality Monitoring Systems. In P. Raj, J. Chatterjee, A. Kumar, & B. Balamurugan (Eds.), Internet of Things Use Cases for the Healthcare Industry (pp. 67–86). Springer.
Vasko, Z. (2014). Enlivening our Sense of the World: Environmental Connectedness through Artistic Engagement [Doctoral Thesis, Simon Fraser University].
Vasko, Z. (2016). Connections between Artistic Practice and Experiences in Nature: Considerations for how Art Education Can Engender Ecological Awareness. Canadian Review of Art Education, 42(2), 69.